Legislators just increased the Kansas budget by almost 9 percent next year but you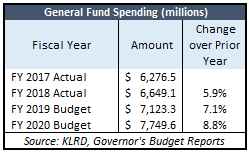 wouldn't know it from reading mainstream media reports.  The conference committee report prepared by Kansas Legislative Research shows general fund spending will increase from $7.1 billion to $7.7 billion next year; that's an 8.8 percent increase on top of a 7.1 percent increase this year.
These outsized increases (inflation has been less than 2 percent annually over the last few years) come on top of record-setting spending in FY 2017.  Media and other claims that state spending during the Brownback years was 'hollowed out' and other disparaging descriptions simply weren't true.  Spending set records in several of those years and the small declines were largely driven by moving some spending to another budget and not making full KPERS pension payments on time.
The adjacent chart comparing shows actual spending exceeded long-term inflation by $923 million in FY 2014 and the gap has steadily risen.  Spending was $1.1 billion above inflation in FY 2017 but additional spending fueled by the largest tax increase in state history would widen the gap to $2.3 billion for FY 2020.  Most of the new spending is going to school funding.
Political gamesmanship
Politics had a lot to do with the latest increase in the Kansas budget.
Medicaid expansion proponents in the House staged a revolt in the waning hours of the 2019 legislative session. A coalition of Democrats and Republicans repeatedly voted against the budget, hoping to force the Senate to debate expansion.
When the dust settled, Republican proponents of Medicaid expansion voted with House leadership to pass the new Kansas budget. The Senate followed suit, and lawmakers closed out veto session in the wee hours of Sunday morning.
Several fiscal conservatives felt compelled to vote in favor of the Kansas budget even though they thought it was too much.
"The funny thing is, I didn't want to support this budget. It spends too much and is not spent correctly, ," said Rep. Stephen Owens, a Hesston Republican, in his explanation of vote. "It does do many good things for Kansas, but to the detriment of the taxpayer that already has the fifth highest tax burden in the nation."
He said the vote wasn't a budget vote.
"We have been forced to make a Medicaid expansion vote again. I am forced to support this budget, because this budget is temporary, but Medicaid expansion is permanent and not right for Kansas," Owens said.
A number of House Democrats voted against the budget because they hoped to delay the end of the veto session and force a Senate vote on expansion. Throughout the weekend, the House blocked a number of budget proposals the Senate adopted.
"We need Medicaid expansion, and my no vote was to allow for the debate to continue," said Rep. Brandon Woodard, a Lenexa Democrat.
Though fiscally conservative Republicans heralded staving off a Senate vote on expansion, some form of expansion is likely to pass both legislative bodies next year. House and Senate majorities passed expansion in 2017, only to see the legislation vetoed by then-Gov. Sam Brownback. This year, House members used a procedural vote to force a vote on Medicaid expansion in the House. Sen. Anthony Hensley, a Topeka Democrat, attempted to force a debate in the Senate, but the motion required the approval of 24 of the Senate's 40 members. It only received 23 votes.
Rep. Francis Awerkamp, a St. Mary's Republican, is hopeful legislators will consider the long term as they think about Medicaid expansion between now and the start of the next session.
"We must ask the questions: what direction do we want our state and country to head?" Awerkamp said. "What do we want our future to be? Do we want Bernie Sanders type policies as our future?"
He says Medicaid expansion increases the role and scope of government in people's lives, taking our country one step closer to a national healthcare system.
"Do we want to maintain the true love and respect for our country, the respect for private property and efforts, and defense of the faith-based principles that formed our country's foundation and strength? Or will the leftist agenda take over, an agenda that disrespects the Natural Law, ignores the Constitution, pushes for high taxes to pay for the excessive government controls, and ultimately leads a country that slowly extinguishes true freedom and opportunity," Awerkamp said.
Now in his second term in the Kansas House, Awerkamp said House leadership did a good job of "helping get some good policies passed while keeping most leftist efforts at bay."
Republicans hold majorities in the House and Senate, but they face opposition from Democratic Gov. Laura Kelly. She made Medicaid expansion a priority in her campaign, and vetoed an abortion bill that would have required doctors to inform those seeking chemical abortions of an abortion reversal pill. She also vetoed a tax bill that would have passed federal tax reform savings onto citizens and businesses rather than collecting them as state revenue. The legislation also lowered sales tax rates on food. Lawmakers passed a similar bill to close out the session last weekend, but Rep. Jene Vickrey, a Louisburg Republican, doesn't think Kelly will sign it on a second pass.
"That would be a success, but I don't know that she's likely to do that," he said.
Vickrey has served in the Legislature since 1993, and previously served in House leadership as Speaker Pro Tempore and as House Majority Leader. He said conservatives can't count many successes this session, though he believes legislation that allows associations and the Farm Bureau to offer health plans are major wins.
"I believe the highlight of the year was our legislation granting freedom for people to buy their own healthcare," Vickrey said. "Those that want government-paid expansion of Obamacare hate it."