Data released by the Bureau of Economic Analysis shows Kansas ranked #43 among the states and the District of Columbia for personal income growth, comparing the second quarter of 2019 with the first quarter.  The annualized growth rate of 3.9% (not adjusted for inflation) was boosted by an outsized annual gain of 6.3% in current transfer receipts.  BEA defines current transfer receipts as payments for which no services are performed, like pensions, social security, and other government social service payments.  Net earnings by place of business increased at an annualized rate of 2.7%.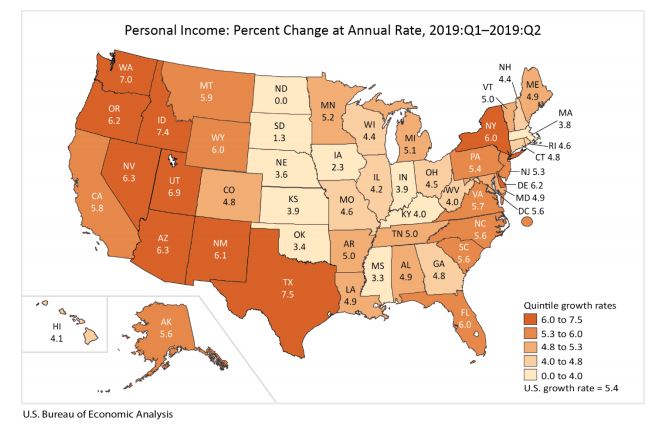 Kansas Governor Laura Kelly in July 2019 crowed to CNBC about how Kansas economic metrics are climbing.
"Kansas for years now has been at the low end of all economic metrics," Kelly said. "That's changing."
Kansas is in its fourth consecutive decade of economic stagnation, and contrary to Kelly's claim, the state remains in the low end of economic metrics.  In addition to weak growth in personal income, the Bureau of Labor Statistics shows Kansas' private job growth is ranked #43 since the beginning of 2017, which also marked the beginning of three consecutive years of state income tax increases.
In September 2019, Gov. Kelly tweeted "The August 2019 KS Labor Report shows great promise for Kansas." The growth rate of 0.8% for the first eight months of 2019 over 2018 average annual employment level is ranked #35; that's better than the cumulative ranking since the beginning of 2017 but still on the low side of economic metrics.
Gov. Kelly's focus on low unemployment is worth noting because a low labor participation rate is driving the unemployment rate lower.
The labor force participation rate is the number of all employed and unemployed workers divided against the state's civilian population, and only those not employed but actively seeking work are counted as unemployed.  A lower labor force participation rate means fewer Kansans are entering the workforce than those retiring and may also indicate that unemployed people have stopped seeking work.  The Kansas labor has shrunk since 2009 and is lower now than it was 2008 recession according to the Federal Reserve Bank of Saint Louis. The labor participation rate for August 2019 was at 66.4%. The last time it was that low was January 1984.