Data published by the Kansas Department of Health and Environment (KDHE), the Kansas City Mid-America Regional Council (MARC) and the U.S. Department of Health and Human Services (HHS) show considerable hospital capacity in the Kansas City Metro and across the state. But the Kansas City Star gave readers a much different impression in Thursday's headline blaring "KC hospitals 'bursting at the seams.'
The Star interviewed hospital people who talked about hospitals being busier, but apparently didn't look at the published data in their rush to scare readers.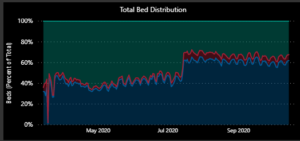 The adjacent MARC chart shows 32% of hospital beds open (shown in green) as of October 15 in the MARC region (Johnson, Wyandotte, Leavenworth and Miami counties in Kansas, and Jackson, Clay, Platte, Ray, and Cass counties in Missouri). There are 2,163 beds available out of 6,689 total beds reported; 382 beds were in use for COVID patients (shown in red) and 4,144 beds were in use for non-COVID patients.
It's also noteworthy that overall hospital usage has been rather steady since late July, and that the increase that occurred then was largely driven by non-COVID patients.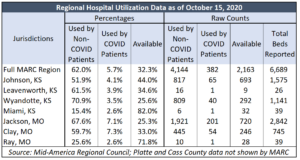 MARC doesn't break out the data for Platte and Cass counties, but availability in the other counties ranges from a low of 25.3% in Jackson County to a high of 82% in Miami County.  Johnson County hospitals 44% of their 1,575 beds open, with 817 in use for non-COVID patients and 65 beds used by COVID patients.
Wyandotte County, home to the University of Kansas Medical Center, had 25.6% of its 1,575 beds available; 809 were in use for non-COVID patients and 40 for COVID patients.
In Jackson County, Missouri, hospitals had 720 beds available, or 25.3% of total capacity, with 1,921 beds used for non-COVID patients and 201 for COVID patients.
KDHE doesn't provide total beds in use or available, but their chart of ICU beds for the Kansas City Metro area shown below indicates 136 available ICU beds – 34% of the total.  There were 36 ICU beds in use for COVID patients and 225 for non-COVID patients.  Usage of ICU beds for COVID patients has been fairly steady since mid-July.
Statewide data as of October 13 from HHS also shows considerable available capacity for Kansas and Missouri.  In Kansas, 61% of all beds were in use and 39% were open, with 6% of beds being used for COVID patients; 79% of ICU beds were in use and 21% were available.

The Missouri numbers were pretty similar; 63% of all beds in use and 37% available…7% of all beds in use for COVID patients and 73% of ICU beds in use.
Other COVID data is available in the COVID Information Center, maintained by Kansas Policy Institute, the Sentinel's owner.