Kansas Democrat Governor Laura Kelly is once again using the closure of a rural hospital to push for Medicaid expansion in the Sunflower State, again making the claim that expansion would have saved Herington Hospital.
The hospital in Herington Kansas, a tiny north central Kansas community of around 2,000 people, about 30 minutes south of Junction City,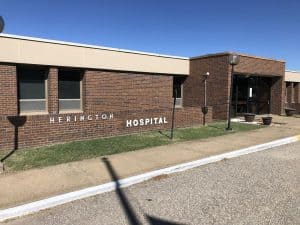 closed on October 11, and Kelly wasted no time in making the case for expansion.
"This closure makes clear the absolute necessity of expanding Medicaid this upcoming legislative session," Kelly said. "Eight hospitals have now closed since we've had the option to increase access to affordable health insurance and support our hospitals, and over half of our rural hospitals are at risk of following suit. Kansas legislators cannot continue to turn their backs on the 78% of Kansans — their constituents — who want to expand Medicaid and save their hospitals." 
However, Kelly's claim is simply not true.
Indeed, even the hospital board of directors didn't cite Medicaid as a factor, according to the Abilene Reflector-Chronicle. 
"This decision follows extensive evaluations and considerations stemming from lengthy financial struggles and consistently low patient volumes,[emphasis added.]" said a statement from the hospital.
Additionally, the Peabody Gazette-Bulletin reported that on the same day the Herington Hospital closure was announced, Emprise Bank named it — among others — in a $1.9 million lawsuit for nonpayment of loans.  Indeed, in 2020 the Sentinel found that, had expansion passed, the Herington Hospital would have received only about $174,000 which would have been unlikely to prevent the closure.
The Reflector-Chronicle also reports that the hospital had been operated by the City of Herington as "Herington Municipal Hospital, and transitioned to a non-profit in April of 2021, and the agreement included a clause requiring it to stay operational for "not less than 10 years."
Not the first time Kelly has made false claims about hospital closures
There isn't a shred of evidence that Medicaid expansion would have saved Herington Hospital, but that hasn't stopped Governor Kelly and others from making such a claim for political purposes.  And this isn't the first time.
In 2018, after the closure of the Mercy Fort Scott hospital in southeast Kansas, Kelly flatly said: "This should not have happened. Simply put: if Kansas had expanded Medicaid, Fort Scott would still have a hospital."
That was again, simply not true.
While Medicaid expansion would have paid Mercy Fort Scott around $2.3 million, the hospital was losing about $14 million a year.
Moreover, Gannett — at the time GateHouse Media — found that Kansas is the least profitable state in the nation for rural hospitals, with 64 percent of hospitals statewide losing money.
Indeed the Kansas City Star found much the same thing.
"The Kansas Health Institute estimates about 130,000 Kansans would enroll in Medicaid if the legislature expands coverage. But it would have a minimal impact in Fort Scott," the Star wrote in April of last year. "About 6% of its population — families that can't afford private insurance but make too much to qualify for Medicaid — would be eligible for coverage under the proposed expansion."
Proximity to other hospitals contributes to low patient volume
Low patient volume was also an issue in the Fort Scott closure, where patients can access major hospitals around an hour away in Kansas City and smaller, but still very capable hospitals roughly 30 minutes south in Pittsburg.  Residents in the Herington area also have multiple options, living within 30 minutes of Junction City, about 45 minutes from Manhattan, roughly an hour from Salina and about an hour and a half from Wichita — all cities with significantly larger populations and hospitals, particularly Wichita with multiple major medical centers and other hospitals.
With care centers that are more capable than a small local hospital within easy driving distance it becomes much more difficult for a tiny rural facility to retain patient volume — something Medicaid expansion simply cannot fix.
Other players step up following Herington Hospital closure
Herington is following a familiar pattern in Kansas when a rural hospital folds — another group steps in to provide services.
In the case of Fort Scott, Community Health Centers of Southeast Kansas — headquartered in neighboring Pittsburg, shortly after the closure agreed to place a clinic in the hospital and Ascension Via Christi Hospital agreed to temporarily operate the emergency room.
What city officials found, according to a story by Kaiser Health Network in late 2019, is that they didn't need a hospital.
Fort Scott City Manager Dave Martin told KHN, "we will not have – nor do we need – a hospital," roughly one year after the hospital closed.
CHC/SEK's Executive Vice President Jason Wesco told KHN, most of the care that was available at Mercy Fort Scott was then available through his organization — and a few services that weren't available were shortly after."
As Gannett noted in its rural hospital project in 2019: "High rates of poverty in rural areas, combined with the loss of jobs, aging populations, lack of health insurance and competition from other struggling institutions will make it difficult for some rural hospitals to survive regardless of what government policies are implemented."
Likewise in Herington, the Family Resource Exchange whose services are normally restricted to low-income families is providing help from the organization so long as someone has an identification card and proof they've lost their job according to KSN.
While the group doesn't provide health services directly they do help cover doctor's appointments for those who need the assistance.
Additional discussions on how to fill the services gap will take place at the October 16 city commission meeting.