When Kansas City, Kansas grandparent Jim Clay looked over Jacob's New Dress, a book his 4-year-old preschooler brought home, he was "astonished and disgusted" by its content.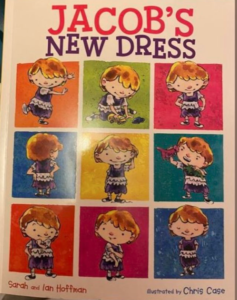 But instead of grousing online or to friends about educational standards, he took action with calls to school officials in the Turner USD 202 district. And now, he is satisfied this issue is resolved.
"I've been hearing about these things happening on the news, but this one hit home. I decided, not here, not now," he begins.
The Sentinel reached out to school officials, including the Turner Board of Education and the Parents as Teachers coordinator for comment, but none was received. The Clay Family, however, had better luck.
"I made phone calls to the school principal, to the school superintendent, and left messages with the school board president. All to no avail. No response. Until today (December 2nd). I received an email that the situation has been corrected. Once they were made aware of the mistake, they moved to action and responded."
The email Clay's daughter received from the Turner Elementary School faulted a contractor for the controversy over Jacob's New Dress.
"Last school year, our early childhood program began a partnership with Literacy KC, a local nonprofit that focuses on improving literacy throughout the region. Community partnerships like these are important to our district as they allow us to expand our resources and outreach, which ultimately strengthens our district programs.
"Partnering with Literacy KC has meant that on a weekly basis, all pre-k students are able to participate in an additional in-class fine motor-focused activity as well as receive a book to bring home. Another benefit is that because these resources are provided by the nonprofit, it allows our early childhood program to utilize funding that would have been spent on books and supplies for other resources for our pre-k classrooms. Overall, the partnership has been a positive addition to our district's early childhood program."
The school pledges more district oversight in the future.
"We have been made aware of concerns with books that were sent home by Literacy KC earlier this week. Please be assured that these books were not part of a district curriculum, were not required reading, and were sent home to be read at the discretion of parents.
"Moving forward, our district staff will be pre-approving all books and activities provided by Literacy KC to ensure they are age-appropriate and align with our district curriculum and educational mission."
Clay considers the matter settled.
"I am satisfied with the district's response. I do not know if it was a misunderstanding or intentional, but shedding light on the situation paid off in the end."
He challenges parents, even grandparents, to stay vigilant about what their children are being taught:
"Our education system is a place for our children to learn. As the community, and ultimately the parents, set boundaries, I have no concern for anyone's "feelings" in the matter. All that matters is the teaching of objective truth. We must be the watchdogs of what our children are taking in."