Some education officials in Kansas are trying to make parents believe that scores in Level 2 on the state assessment equate with being proficient and on track for college and career.  Just last week, several Blue Valley school board members made that claim.  But an explanation from Kansas Commissioner of Education Randy Watson shows that that isn't true and amounts to attempts to dumb down education standards.
Watson showed the chart below, with Kansas circled in yellow and positioned above the line that is considered proficient by the U.S. Department of Education on the National Assessment of Educational Progress.  The NAEP study shows that Level 3 on the Kansas state assessment is slightly above the line, so Level 2 would therefore be a lower standard and at least drop into the grey zone, which is just considered Basic. (The red arrows and notes about Levels 2 and 3 are added for context.)
He told the board that Kansas teachers set the proficiency cut scores high because they believe kids need that level of rigor to be successful after high school.
Ironically, some of the people who claim students in Level 2 are on track for college and career also brag about Kansas having high standards.  You can't have it both ways, folks.
Those who claim Level 2 indicates proficiency and success do so rather than admit that only a third of Kansas high school students are proficient, as shown in the adjacent table.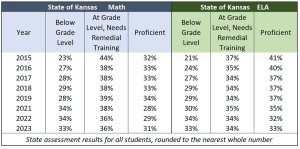 The high school results are even worse, with nearly half of tenth-grade students below grade level in math and only 21% proficient; English Language Arts outcomes are not much better, with 36% below grade level and just 27% proficient.
Results are worse still for seniors, according to ACT:
Only 19% of 2023 graduates who took the 2023 ACT were college-ready in English, Reading, Math, and Science. In 2015, 32% were college-ready in all four subjects.
43% were not proficient in any of those subjects.
These are the worst college readiness results in at least three decades, and education officials will not acknowledge the crisis.  Instead, they try to dumb down standards to make things look better.