The Blue Valley school district in Johnson County deprived two parents of their due process rights on Tuesday when the district canceled their SB 40 grievance hearings. Today, one of those parents was again unable to exercise due process rights when a request for a continuance to retain legal counsel was denied.  Sadly, but not surprisingly, that is not the only way USD 229 officials mistreated parents on this issue.  The list includes various forms of intimidation, scapegoating, and perhaps providing inaccurate information.
Senate Bill 40, revising the Kansas Emergency Management Act, allows citizens to file a grievance or complaint over actions taken by a school district.  Section 1 of the bill says these hearings "… shall be open to the public in accordance with the open meetings act, K.S.A. 75-4317 et seq."
Request for confidentiality denied
The reference to the Kansas Open Meetings Act (KOMA) is important because while SB 40 grievance hearings are to be held in public, KOMA allows meetings to be closed to the public and kept confidential in certain circumstances.  Fifteen circumstances in the law allow for closed sessions, including personnel matters, preliminary discussions relating to the acquisition of real property, and "matters relating to actions adversely or favorably affecting a person as a student, patient or resident of a public institution."
A parent reading this could reasonably believe the school board would gladly accommodate a request to discuss a confidential matter involving a student in a closed setting.  But the Blue Valley school district denied that request.  They told the parent that closed hearings are permitted under KOMA but not required, and they denied the request.
I'm not an attorney, but I've scoured the text of SB 40 and cannot find anything that says the provisions of KOMA do not apply to SB 40 hearings.  On the contrary, a reasonable person could certainly think that the reference to KOMA in SB 40 allows for closed meetings.  School boards routinely go into closed executive session to discuss confidential matters.
Forcing a parent to disclose confidential, or at the very least, personally sensitive, information in public as a condition of exercising their legal right to advocate on behalf of their child sure seems like an attempt to get parents to back off and not filing grievances.
Due process could have occurred on Tuesday
Blue Valley scheduled a hearing for 10:00 a.m. Tuesday morning but canceled it before the parent was allowed to speak.  An unnamed hearing officer hired by school board members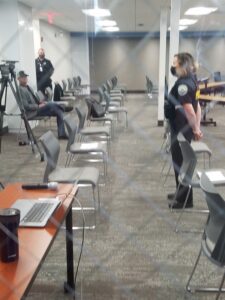 (who weren't in the hearing room) said the hearing couldn't begin until a man not wearing a mask left the room or put on a mask.  It's unknown if the man entered the building, registered, and was shown to the hearing room without a mask; I asked the district if anyone would have been allowed to do so, but they didn't respond.
The hearing officer asked everyone to clear the room and said those wearing masks would be allowed to re-enter for the hearing.  Several parents expressed concern that they wouldn't be allowed back in if they left, and despite assurances from the hearing officer, that's what occurred.  The hearing officer then announced – after the unmasked man declined to leave the room or wear a mask – the meeting was canceled and would be rescheduled at some unknown time.
The district could have moved the hearing to another room, but they didn't.  Parents were unable to exercise their due process rights, and everyone was sent packing, including two people who drove in from Wichita in support of the parent.
Blue Valley officials also have not explained why they hired a hearing officer instead of conducting the hearing themselves.  SB 40 says, "the board of education shall conduct a hearing…" and Rep. Sean Tarwater says the Legislature intended for boards of education to conduct hearings.
More intimidation from the district
Blue Valley officials notified parents of the hearing and said, "the district may be compelled to modify its COVID-19 mitigation efforts, including elimination of the district-wide mask mandate" if the parent prevailed in a civil action in district court.
Many parents read that as an attempt to turn mask proponents against parents who file grievances and intimidate them.  And the intimidators turned out in force; as people walked into district headquarters to attend the hearing, some were told they were "killing kids" by opposing a mask mandate.
The district likely didn't know the exact nature of the grievance, as the parent's request for a closed hearing was denied.  But the district was made aware that it was a confidential matter involving one child.  Why the district told the public that the entire mandate could be eliminated remains a mystery.
No written policies and procedures released
There have been multiple requests for copies of the district's grievance policies and procedures, but nothing was produced as this is written.  After the hearing was canceled, I asked the district for the written procedures the hearing officer was given and was told they don't have to respond for 72 hours.
We still don't know if no policies exist or if the district is refusing to provide them.
Blue Valley gets legal counsel but not parents
We don't know if the district put this in writing since they won't produce written policies or procedures, but one policy surfaced at the hearing rescheduled for Wednesday morning.  At least this registered attendee wasn't notified (as promised by the district) that the canceled Tuesday hearing would be held online Wednesday morning, but we did obtain information from screenshots of the Zoom-transcribed hearing.
The parent who requested the closed meeting emailed the district on Tuesday requesting a continuance for time to obtain legal counsel.  According to the Zoom transcripts, the hearing officer said, "Well, I'm here to hear this today and I'm not exactly in charge of setting the meetings.  I'm just here as the hearing officer.  So I have no ability to rule on that one way or another."
Asked by the hearing officer for input from Blue Valley General Counsel Melissa Hillman, she said, "I would object to continuing this hearing.  This is the second time we've tried to convene. If (the parent) is unhappy or dissatisfied with the outcome of this hearing, it can be appealed to the district court and (the parent) will have an opportunity to have counsel at that."
The hearing officer asked if the parent would like to proceed, the parent declined, and he said it would be up to the district to determine whether another opportunity would be provided.
Whether in writing or made up as they go, one district policy on SB 40 hearings seems to be "legal counsel for Blue Valley but not for parents."
Due process, legislative intent subverted
It is hard to imagine that legislators amended the law to allow parents to exercise their constitutional right to due process but intended to strip them of their right to a closed hearing as still permitted in state law.
But that didn't stop the Blue Valley school board and district officials from giving a parent the false choice of airing confidential information about a child in public or foregoing due process rights.
Ben Franklin was right; we have a constitutional republic…if we can keep it.  That's why it is so important that people support citizens who come forward to defend their rights and hold government officials accountable when they act like bullies.