The Kansas City Kansas Board of Public Utilities (KCK BPU) charges customers exceptionally high rates for electricity and water, and that enables the Board of Directors to lavish big pay increases on top management.
An Open Records request shows General Manager William Johnson's pay jumped 27% last year, going from about $337,000 to more than $428,000.  Chief Operating Officer Jeremy Ash was paid 34% more, collecting almost $325,000.  Other big increases given to the ten highest paid employees in the table below went to Director of Water Operations Stephen Green (33%), Director of Electrical Engineering Patrick Morrill (26%), and Civil Engineering Director Chris Stewart (24%).  The complete payroll for KCK BPU is available at KansasOpenGov.org.

It's not just top management pay that is costing customers.  In 2020, the Sentinel reported that KCK BPU had 246 employees who earned more than $100,000 in 2019, including positions like Trouble Call Clerk, Carpenter, Leak Detector, and Mechanic, and that is still the case.  Lead Cable Splicer Eric Ferguson was paid over $200,000 last year.  Lineman Trenton Overton collected more than $176,000, nine people called Electric Troubleman were paid more than $150,000 and  Trouble Call Clerk Kelli Adams collected over $131,000.
According to a release from the KCK BPU, the 11% increase in the 2023 budget is "mainly the result of higher personnel costs, higher costs for materials and services and increased fuel and purchase power costs."  The budget doesn't disclose actual expenditures for 2022, but General and Administrative costs show the biggest jump over 2021, going from $24.2 million to $34.5 million.
KCK BPU customers pay the price for rich benefits, high wages
The Board of Public Utilities affords rich benefits (including free medical insurance) on top of high wages by charging the consumers significantly higher electric rates than surrounding utilities.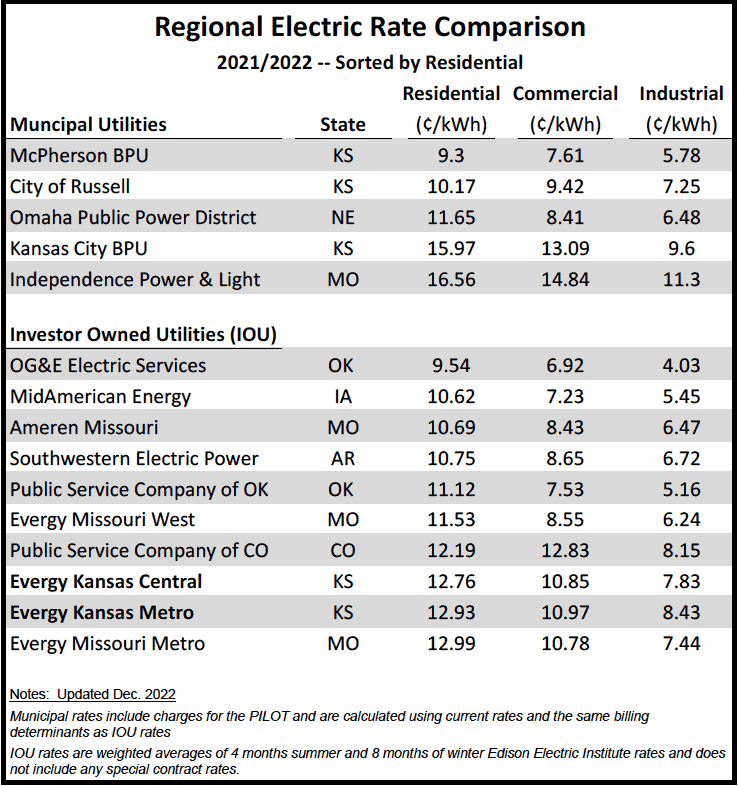 According to Kansans for Lower Electric Rates, KCK BPU charges 15.97 cents per kilowatt hour (c/kWh), which is about 25% more than Evergy in Kansas and Missouri, and about 60% more than other municipal utility companies in Kansas.  McPherson was at 9.3 c/kWh and only Independence (Mo.) Power & Light was higher at 16.56 c/kWh.
The company also has much higher commercial and industrial rates than every company except Independence Power & Light, which is a significant barrier to economic development and job creation.
The U.S. Energy Information Administration reports that customers in 15 states and the District of Columbia have retail choice, meaning they can purchase electricity across state lines to get the best deal.  Breaking the utilitiy company monopolies with retail choice legislation may be the only real hope for relief for customers in Kansas and Missouri.