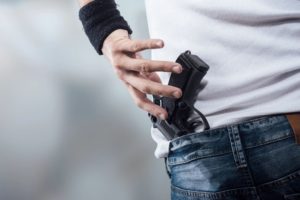 As reported in the University Daily Kansan, a 50-60 strong faculty group at the University of Kansas is plotting to keep gun-carrying students off the KU campus in Lawrence.
The Faculty for a Safer Campus, as the group is known, put out a release earlier this month arguing that classrooms should be "'safe spaces' . . . welcoming places for exchanging ideas, conducting critical debates and even disagreeing, without the threat that differing arguments will escalate into dangerous life or death conflicts."
KU has a four-year exemption on the state's constitutional carry law that expires on July 1. According to the law, anyone over 21 can carry a legally obtained firearm on public property.
At KU, as at most other universities, ideological conformity has become something of a norm, so much so that serious disputes are rare. Indeed, it is hard to recall an incident anywhere in which a classroom discussion has led to serious violence, let alone gun violence.
There would seem, however, to be some risk of violence on campus outside the classroom. Friday's Daily Kansan, the same edition that produced the "safe spaces" article, led with these two headlines:
Incidents of violence on other campuses proved particularly deadly in those cases where students could offer no defense. At Virginia Tech in 2007, a Korean national wandered the campus at will shooting 49 people, killing 32, before killing himself.
Most recently at Ohio State this past November, a Somalian national injured eleven people in a car and machete attack. He would have hurt or killed many more had not an armed university police officer been right at the scene. The officer shot and killed the attacker.
If faculty members want to make the classrooms congenial to debate, they could do that immediately by hiring a more ideologically diversity faculty and encouraging a more open exchange of ideas.